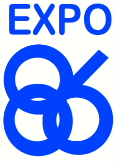 McDonald's McBarge










































CLICK HERE to
see the McBarge as it looks today.
CLICK HERE to see "The Wraiths" Urban Adventure team's photographic journey to the McBarge in 2003.
McDonald's Friendship 500 Floating Restaurant
(McBarge)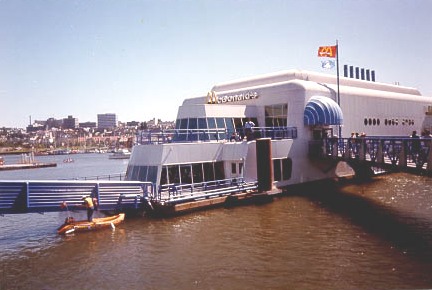 Today, it's easy it imagine a McDonald's with a stone fireplace, hardwood floors and ambient lighting. But in 1986, the majority of the restaurants were still the original red and yellow tiled structures, some of which were updated with brick facades during the 1970s.
There was a shift in public attitude during that time. The Yuppies were forsaking all things blatantly cheap. Hot-dogs, diners and the Five and Dime were out. Quiche, Bistros and boutiques were in.
McDonalds, a company that prided itself on affordability, was loosing a part of the young adult market to eating establishments that portrayed themselves as high brow. Because of this, McDonalds tried out a new concept in 1986 -- "affordable elegance." Their flagship restaurant at Expo 86 was built more in the style of a bistro than a McDonald's. Because it was a costly venture, the McDonalds was built as a floating restaurant so it could be easily moved to another location.
Click on the pictures below to enlarge.
The McBarge featured garden rooms, tasteful art and panoramic views of Expo 86. A unique feature to this McDonald's was a hidden kitchen. Burgers and fries were delivered to the front counter by way of a conveyer belt.
After the fair, the company wanted to find a permanent home for the McBarge but all proposed sites were turned down. Today, the McBarge is anchored just offshore in Burrard Inslet.
Click the links on the left to see the McBarge as it looks today.