RIDES
CARROUSEL -- A vintage Carrousel was lovingly restored for Expo '86. Originally built by the Philadelphia Toboggan Company in 1907, this elegant ride provided a nostalgic flashback to the fairs of yesteryear.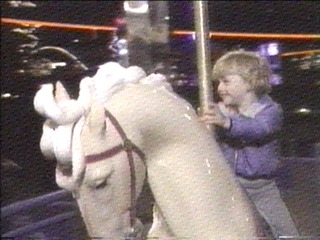 THE GYROSPHERE -- As an amusement attraction, the Gyrosphere was relatively new to Canada in 1986. Before that time these contraptions were primarily used to test motion sickness in Astronauts. The person was strapped in a seat and spun topsy-turvy in every direction at high velocity. This brave 12 year old showed enough stamina to enter the Space Program.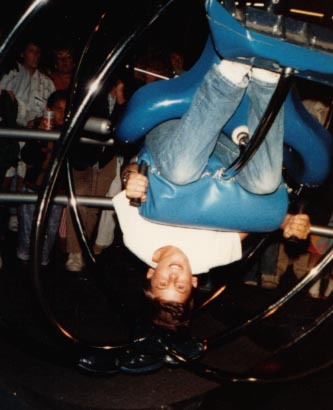 CARABOO LOG CHUTE -- It wasn't pretty but it was fun. This 4 minute water voyage took visitors up two separate conveyer belts which led to a serpentine waterway. Billed as the best way to cool off on a hot, summer day, the 440 metre track ended with a rather large splash.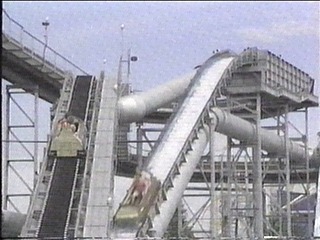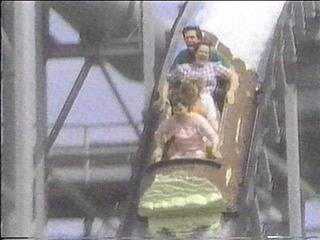 LOOPING STARSHIP -- Fifty passengers at once could ride this attraction. Starting with a gentle rocking motion, the starship would eventually gain momentum until it reached a full loop. There was suspense as the riders didn't know if the first full turn would take them backward or forward. Experiencing speeds up to 14.6 metres per second at the circumference, passengers were also treated to relative weightlessness at the top of the loop -- a sensation experienced in real space travel.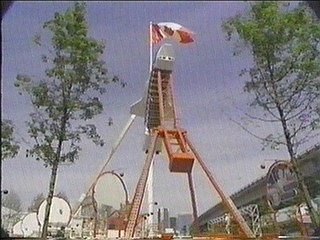 THE SCREAM MACHINE -- was a two minute rollercoaster ride through a series of rises, drops, loops and spirals. The trip included a corkscrew, a side winder, a 360 degree vertical loop and reached a maximum spped of 88 KPH. At 33 metres above the ground, the highest portion of track offered a clear but fleeting glimpse of the Expo site below.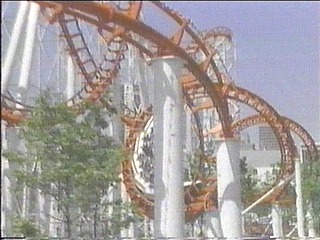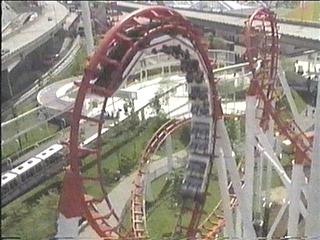 MINOLTA SPACE TOWER -- At 72 Metres high, the Space Tower was the tallest structure on the Expo grounds. Rising up the central tube, the "Observatron" was an enclosed observation deck that rotated slowly as it rose up the structure, giving up to 70 passengers a panoramic view of Expo, False Creek and Downtown. For the more adventurous, twelve two person capsules were suspended in a circle around the Observatron. Modelled on the Parachute drop at the 1939 NYC World's Fair, these capsules ascended to the top of the tower and were then released in a controlled free-fall descent.