Missing Persons Report
Burnaby Division CSI Unit
copy
___________________________________________________________________________
Date: October 3, 2005.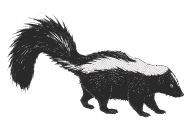 Name of Missing Person: Scruffster Skunk.
Missing since: October 1, 2005.
Description:
-- Height: 3'2" (Standing on back paws)
-- Weight: 50 lbs.
-- Eyes: Blue
-- Hair: Black w/ white stripe
-- Distinguishing Marks: Tattoo under tail which reads "SMELL THIS" in a freehand Graffiti font.
-- Species: Mustelidae Mephitis
Last known whereabouts: Lougheed Mall. Automobile found at Trans Canada Trail Kiosk by Kask Bros. Some damage to automobile. Valuables scattered nearby along the Barnet Highway. Robbery ruled out. Abduction probable.
Timeline: August 21, 2005
09:20 AM -- Scruffster Skunk seen leaving home in North Burnaby.
10:15 AM -- Lougheed Mall security camera catches frame images of Scruffster Skunk at an ATM. Records show a withdrawal of $100.00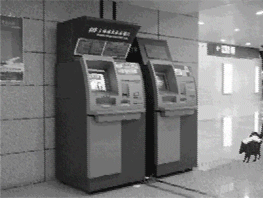 10:32 AM -- Female Greeter at Walmart insists that a skunk matching Scruffster's description lifted his tail at her. Credit card records show that Mr. Skunk bought a music CD at the store: Phyllis Diller Sings Selections from South Pacific.
12:45 PM -- Neighbour spots Scruffster skunk in a panic, scampering around his yard screaming "I NEED A CHICO COMBO I NEED A CHICO COMBO." After several minutes, Scruffster drives North and is not seen again. The neighbour notices Scruffster drop a piece of paper. She thinks nothing of it at the time but later pics it up and eventually hands it over to the police.
Abandoned automobile found 24 hours later.