WHERIGO HITS EXPO 86
Vancouver's first interactive WHERIGO game will take place on the parklands that cover the main Expo 86 site.
Wherigo (Where I Go) is an interactive program involving GPS enabled Pocket PCs and the Garmin Colorado GPS receiver. Zones can be mapped out anywhere on earth. With a cartridge downloaded into GPS enabled Pocket PCs, hotspots via GPS navigation allow for an interactive tour of the area.
In the case of EXPO 86, people will be able to walk through the parks , stand exactly where the pavilions once stood, and learn about the fair. The game will allow people to interact with popular characters that were involved with Expo 86.
REUNITE WITH LOST FRIENDS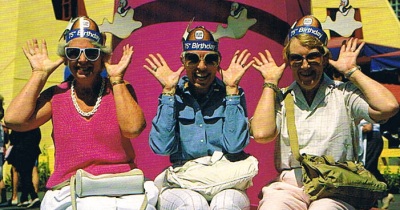 Did you meet someone at Expo 86? Did you loose touch? Several people have contacted this website over the years looking for lost friends, loves and acquaitences. Click on the photo above. Someone might be looking for you. If you're looking for someone you met at Expo 86, submit your story via email.