STREET ENTERTAINERS (BUSKERS) AT EXPO 86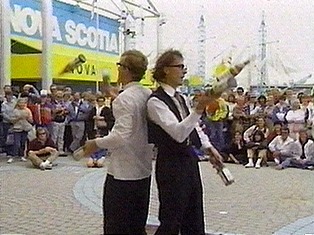 The buskers were originally hired to alleviate boredom by entertaining people waiting in long pavilion queues. Open areas within the line ups were created as stages. It was a novel idea. It was a successful idea -- too successful, in fact.
It turned out that the line ups bottlenecked drastically as many people were reluctant to move along until the show was over. Because of this, the buskers were eventually given free reign to assess the situation and to put on a show in a spot of their own choosing -- usually far enough from the line ups so not to cause traffic jams but close enough so they were still in sight.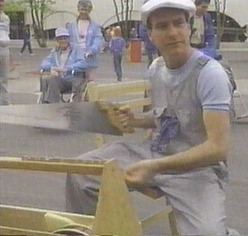 The forms of entertainment ranged from jugglers to acrobats; clowns to celebrity impersonators. Musicians played every instrument, tool and knickknack imaginable.
Not all buskers put on a traditional show, however. Many costume clad entertainers mingled with the crowds and went for a personal approach. There was a team who wandered around EXPO 86 acting like frustrated tourists at their wits end. Then there was a mime dressed as a maitre d' who led people around his imaginary restaurant. People originally thought the mime had given them a front row seat for an upcoming show until they realized from the onlookers in the distance that they were unwittingly duped into being the show.
In what was perhaps on of the most unique and fresh entertainment ideas, Garbo's "Garbage Can Pavilion" became an instant hit.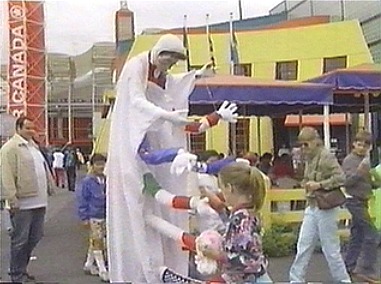 As the summer drew on and the crowds got thicker, more buskers were added to the roster. The best and most popular entertainers renewed contracts and stayed on. And that was a good thing. It gave Expo a carnival like atmosphere and a heightened sense of excitement that would not have been achieved without them.
There is a good article in "Juggler's World" that discusses the role busker's played at Expo 86. Although I personally take issue with some of the views (such as the Pavilions were lifeless and the fair was cramped) it is an interesting article from the viewpoint of a busker. Click the link on the left to read the article.