Glowing in the Dark: Expo 86 at Night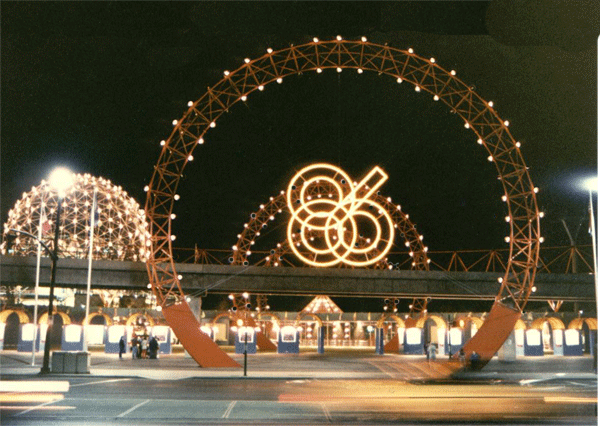 (photograph courtesy of Phil Karasick -- Animation by Bobbea Studios)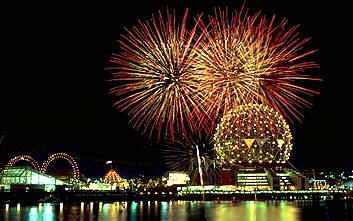 The aura of Expo 86 changed dramatically as daylight faded into twilight and lights of every description began to bathe the fair in a wash of colour. Lighting experts from Hollywood and around the world were called in for the project and every special effect imaginable was utilized to some degree. Be it smoke and mirrors or computerized strobe lights, a lot of thought was put into creating a mood of awe and wonder during the evening hours at Expo 86.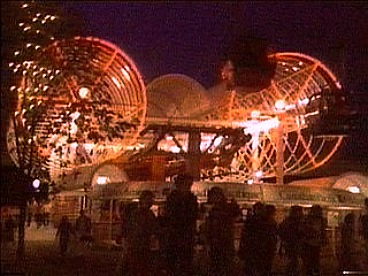 The combined fireworks & laser show were the evening display's main attraction but there were many other innovative lighting projects around the fair. Pavilions that appeared architecturally bland during the day became alive with film projections and dancing lights. Neon glowed along the monorail track and under lighting projected onto the tallest structures made them appear all the more monolithic.
There were also examples of subtle and elegant uses of light. By projecting streams of pastel colours onto the specially coated surface of their pavilion, the Northwest Territories recreated the Aurora Borealis as it looks when is refracted by glaciers.


Click on the pictures below to enlarge:


Switzerland Pavilion



Northwest Territories
Pavilion


Great Hall of Ramses II



Plaza
of Nations


Quebec Pavilion



Yukon
Pavilion


China Gate


General Motors
Pavilion

Saskatchewan Pavilion


British
Columbia
Pavilion

Space Tower



Monorail
Portal


CN Pavilion


Australia
Pavilion

CN Pavilion



Expo Centre


Main Gate



Mexico Pavilion