MAIN INDEX
PURPLE ZONE
RED ZONE
BLUE ZONE
PINK ZONE
GREEN ZONE
YELLOW ZONE

INTERNATIONAL, PROVINCIAL
& STATE PAVILIONS
PLAZAS, PUBS & ENTERTAINMENT
THE BLUE ZONE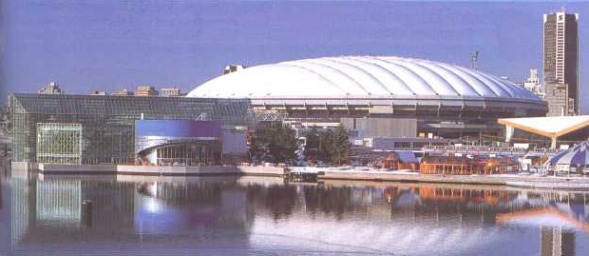 Situated close to the geographical centre of Expo '86, the Blue Zone was the heart of entertainment and administration. This was one of the few areas designed to last beyond the fair. Most of the major structures still stand today.
During the day, this area was the place for formal ceremonies. But at night, the area came alive with pubs, bars, and if you were lucky enough to snag a ticket, you were never far from seeing a big name act at the Labatt's Expo Theatre.
The Blue Zone could also have been called the BC Zone. Keeping the area all to itself, the host province turned the Blue Zone into a showcase of British Columbia and its people. The idea behind this was to insinuate that the province is too vast, its resources too many, the natural splendour too extreme and the people too diverse to be showcased in a single pavilion. Thus, British Columbian exhibits spilled out of the buildings into the open air. The British Columbia Pavilion consisted of three indoor venues surrounded by a rain forest and covered plaza. Marine exhibits were located along the water's edge. The plaza and entertainment centre itself was symbolic of British Columbia's urban landscape.