MAIN INDEX
PURPLE ZONE
RED ZONE
BLUE ZONE
PINK ZONE
GREEN ZONE
YELLOW ZONE

INTERNATIONAL, PROVINCIAL
& STATE PAVILIONS
CORPORATE PAVILIONS & THEME EXHIBITS

GREEN ZONE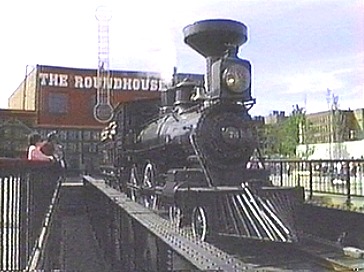 The Green Zone was home to the only remaining structure built before the World's Fair. Originally used to fix locomotives for the Canadian Pacific Railway, the Roundhouse was restored for Expo 86 as a reminder of False Creek's industrial heritage as a ship to shore terminal.
This area was devoted to water transportation and the romance of the sea. Pavilions representing the European nations that were famous for charting the world's oceans were situated around a common plaza. Canada's coastal Provinces were also found here.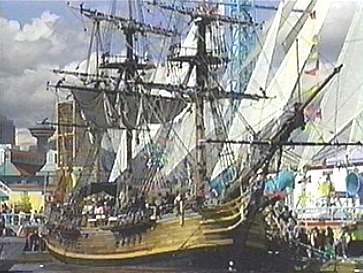 Sprawling along the oceanfront, most every vessel that explored the earth's waters could be found tied to the docks at the Marine Plaza. It was common to hear hammers pounding and old folk songs about the sea being sung along the water's shore as builders from around the world crafted boats in the same way their predecessors did 200 years ago.
For the young and young at heart, visitors could steer remote controlled boats in a giant pond or climb Ogopogo -- a sculpture dedicated to British Columbia's legendary lake monster.