MAIN INDEX
PURPLE ZONE
RED ZONE
BLUE ZONE
PINK ZONE
GREEN ZONE
YELLOW ZONE

INTERNATIONAL, PROVINCIAL
& STATE PAVILIONS
PLAZAS, PUBS & ENTERTAINMENT
EXPO THEATRE
This 4000 seat outdoor facility was home to the "Big Names" that entertained at Expo. Never before or since has Vancouver seen a showcase of current and classic talent to this degree in such a short period of time.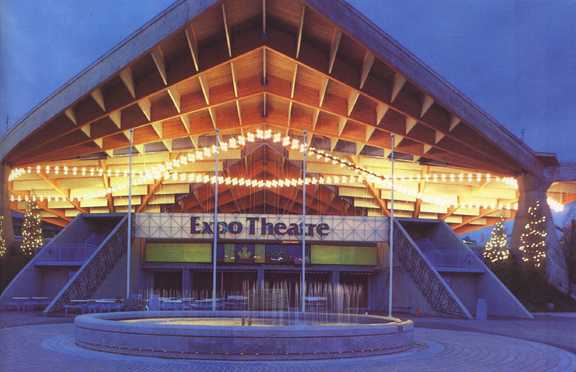 The venue's roster included musical guests such as: Harry Belafonte, Anne Murray, Billy Ocean, Bruce Cockburn, The Eurythmics, Julio Inglesias, Amy Grant, Loverboy, A-HA, Liberace, The Mormon Taberackle Choir, Gowan, Parachute Club, Joan Baez with Don Mclean, Kenny Loggins, Lou Rawls & the 5th Dimension, Honneymoon Suite, Kim Mitchell, Jonny Cash, Depeche Mode, Joe Jackson, George Thorogood, Smokey Robinson, George Bensen, John Denver, Manhatttan Transfer, The Beach Boys, Air Supply, Peter Paul & Mary, The Temptations, Rene Simard, K.D. Lang, Peter Allen, and Sheena Easton.
The "Legends of Rock & Roll show presented The Righteous Brothers, Roy Orbison, Paul Revere and the Raiders, Ray Charles, Jerry Lee Lewis and Fats Domino
Comedians showcased at Expo Theatre included: Bill Cosby, Bob Newhart, Bob Hope, Red Skelton, Joan Rivers, and George Burns.
Classical Dance and Las Vegas style shows included: Mikhail Baryshinikov, Mitzi Gaynor, Lena Horne and magician Harry Blackstone.