PURPLE ZONE
RED ZONE
BLUE ZONE
PINK ZONE
GREEN ZONE
YELLOW ZONE
INTERNATIONAL, PROVINCIAL
& STATE PAVILIONS
CORPORATE PAVILIONS & THEME EXHIBITS
THE RED ZONE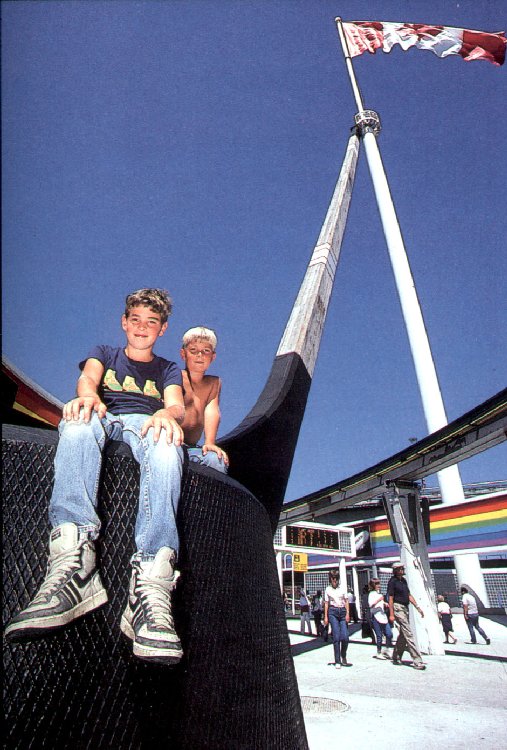 The RED ZONE was unique in that it was divided into two distinct areas. On the main site it was situated on the north-east section between the Blue and Purple Zones. Through the Canada Portal, guests were shuttled via rapid transit underneath the city to the Canada Pavilion built on a pier overlooking Stanley Park, downtown and Burrard Inlet.
Some interesting features in the Red Zone included the world's largest Canadian flag and the world's largest hockey stick and puck. Highway 86, a mega-sculpture, stretched from the waters of False Creek to the Georgia Street viaduct in one huge traffic jam of transportation vehicles. The Land Plaza, dedicated to all forms of land transportation, exhibited a collection of automobiles, rickshaws, wagons, bicycles and anything else imaginable that rolled, ran or skidded along the ground.
The nightly fireworks display was best viewed from this area and two of the most popular midway rides, the Scream Machine and the Looping Starship, were tucked in between two viaducts heading in and out of the city making for an interesting view for motorists.