MAIN INDEX
Purple Zone
Red Zone
Blue zone
Pink Zone
Green Zone
Yellow Zone
INTERNATIONAL, PROVINCIAL & STATE PAVILIONS
CORPORATE AND THEME EXHIBITS
THE PURPLE ZONE
The Purple Zone, bordered by Quebec Street and the shores of False Creek, was situated on the far east corner of the fair. Many people consitered this Zone to be the soul of Expo 86 due to the fact that it housed two of the most popular theme attractions -- Folklife and Expo Centre.
Expo Center was planned to be converted into a Science Centre after the fair and its placement at the foot of Terminal Avenue was agreed well in advance. The area was also the site of Skytrain's Main Street Station and just across the street from Vancouver's historic train terminal. With all this in mind, an idea was formed to allow visitors a single vantagepoint to view all of Expo's modes of transportation in action.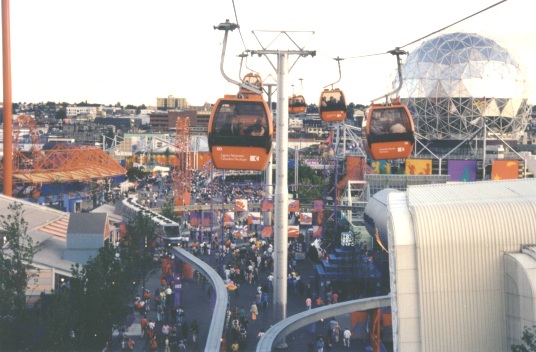 (photo courtesy of Phil Karasick)
Within eyesight from the main gate, the skytrain whizzed by as the monorail looped in and out of the station. Gondolas glided silently overhead while water taxis and ferries cruised to and fro in the ocean. At night, the buzz of all this traffic was intensified by the whirling lights of the Main Gate portals. It was all about motion on a grand scale and the excitement around the main gate made it one of the most photographed structures at Expo 86.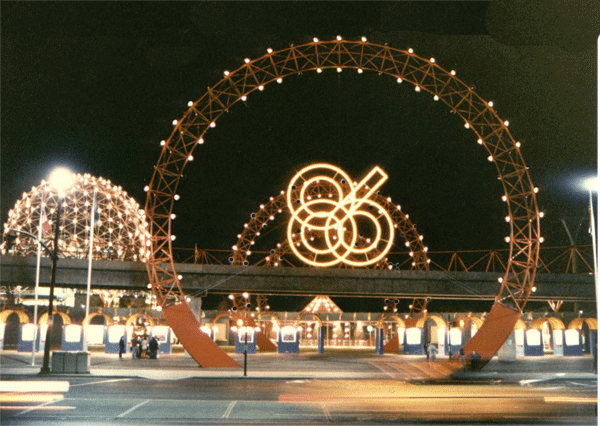 (photo courtesy of Phil Karasick -- animation by Bobbea Studios)