As chocolate bar sales dropped 80% overnight, a cross country protest was set for May 3rd. But it was instantly quelled when an anonymous person leaked a story to the Toronto Telegram. One of the supporters of the boycott was the National Federation of Labour Youth -- a group known to be sympathetic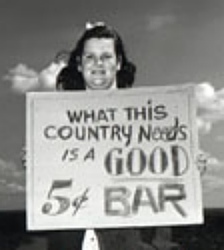 with communist causes.
At the zenith of its popularity, the inspiring movement fell victim to the times. In a widely circulated attack, the Toronto Telegram blasted the youthful dissidents as stooges of Moscow. The paper labelled candy strikers "another instrument in the Communist grand strategy of the creation of chaos," and charged that "Communist youth organizers have been instructed to use every possible means of developing and encouraging the chocolate bar agitation."
Such cold war paranoia defused public support for the children. Cowed by allegations of communist involvement, grown-ups worked to short-circuit the drive for the nickel bar. In Vancouver, the 2,500 member Sat-Teen Club caved in to pressure from priests, parents, teachers and city officials to terminate the group's involvement with the candy boycott, glumly declaring that "mob demonstrations and strikes are not consistent with the ideals of the club." As similar scenes were replayed across the land, the demoralized movement melted away like so much chocolate in the summer sun. Bedtime had come early for the nickel bar war.
Canadian children, idealistic and innocent in pursuit of a just cause, had been undone by powers beyond their understanding or control. Today, the average candy bar costs more than a dollar.