MAIN INDEX
Purple Zone
Red Zone
Blue zone
Pink Zone
Green Zone
Yellow Zone
INTERNATIONAL, PROVINCIAL & STATE PAVILIONS
Peoples Republic of China
CORPORATE AND THEME EXHIBITS
PEOPLES REPUBLIC OF CHINA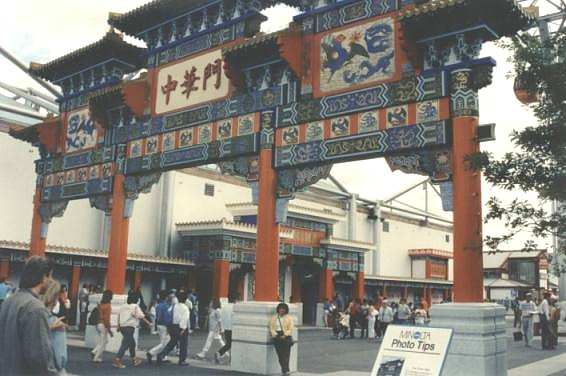 (Photo courtasy of Phil Karasick)
An eye-catching ancient pailou (arch) and a long ornate walkway lead visitors inside the People's Republic of China Pavilion. This was one of the largest pavilions on site.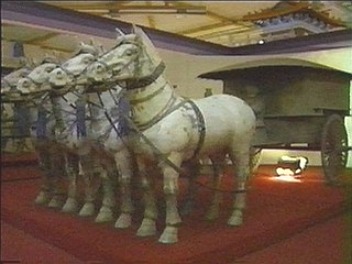 The pavilion's exhibits spanned time in a blend of China's past and present accomplishments in transportation and communications.
Once inside the pavilion, visitors could view such modern technological innovations as a communications satellite, a rocket, a ground receiving station and a marine surveying ship.
Jumping back in time to the Ming Dynasty, a model of explorer Zhen He's flagship displayed China's lead in navigation a century before Christopher Columbus and Magellan.
A few steps ahead the visitor came to a 2000 year old bronze chariot. Unearthed in 1980, this was the largest, most complete and oldest among the chariots excavated to that date. The famous terra-cotta statues unearthed from the grave of Qin Shi Huang stood on both sides.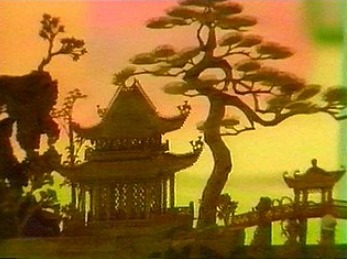 China's achievements in the field of land transportation were seen in the pavilion's highway and railway exhibits. Included was the Ainghai-Tibet Highway (the longest and highest in the world). A walk-through model of The Great Wall brought guests face-to-face with a structure that is not only an engineering marvel, but was also used as a communication device.
Next, visitors took a fantasy boat tour through the three Yangtze River gorges.
A gift shop featured traditional arts and crafts.