YUKON PAVILION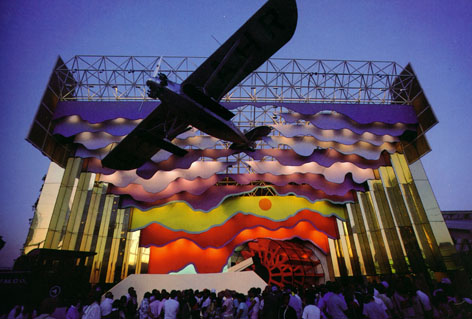 The front of the dramatic Yukon Pavilion formed an open-air theatre with a brilliant three-dimensional northern sky backdrop. Mirrored panels helped capture the magical qualities of the Yukon's Northern Lights. Surrounded by artefacts from the Klondike Gold Rush, the entranceway also served as a stage for barkers and street entertainers.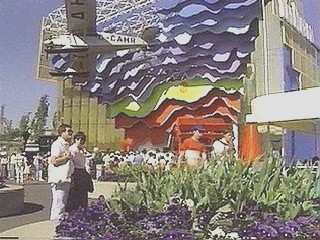 Suspended overhead was a replica of a sister plane to Lindbergh's Spirit of St. Louis. The bush plane "Queen of the Yukon" was symbolic of the role played by aircraft in opening up the wilderness. Below was the tiny 0-4-OT locomotive that was used for hauling coal to power the Klondike in the early part of the twentieth century.
Inside, the Yukon's most famous transportation story unfolded. The Klondike Gold Rush of 1898 came alive with the tales of the men and women who laboured for their dream of finding the mother lode.
Visitors too could pan for gold nuggets.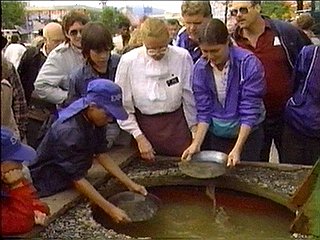 Exhibits also told other famous stories including the building of the Alaska Highway; the only public highway in North America to reach the Arctic Coast.
The Pavilion's main attraction was an 18 projector audio-visual show. From the ice-covered peaks of Kluane National Park to the wilderness of Dempster Highway, Yukon's history and natural splendours were revealed in this production.
Yukon's multi-cultural nature was highlighted through an exhibit of Native arts, a moosehide canoe, and ancient material from Old Crow (the oldest known area of habitation in North America). Also on display were traditional and modern dog sleds, including a high-tech, long-distance racing sled.