MAIN INDEX
Purple Zone
Red Zone
Blue zone
Pink Zone
Green Zone
Yellow Zone
INTERNATIONAL, PROVINCIAL & STATE PAVILIONS
Northwest Territory
CORPORATE AND THEME EXHIBITS
NORTHWEST TERRITORIES PAVILION
Designed by: Bing Thom Architects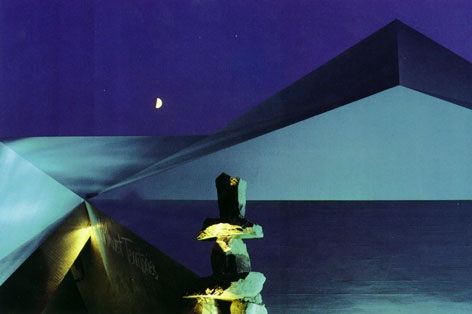 A giant symbol of Canada's North -- a six-metre-high "inukshuk" -- welcomed visitors to the Northwest Territories Pavilion. In the form of a human with outstretched arms, the granite figure was an example of an ancient Inuit navigation aid that has become an international symbol of Northern hospitality and friendship.
The pavilion's geometric structure was representative of the Canadian North's icebergs, glaciers and snow-covered mountain peaks. The roof had a reflective coating that sparkled in the sunlight.
Inside the pavilion, several exhibits told the story of "The Emerging North and the Search for Balance" between the land, modernization, economic development and northern lifestyles and cultures.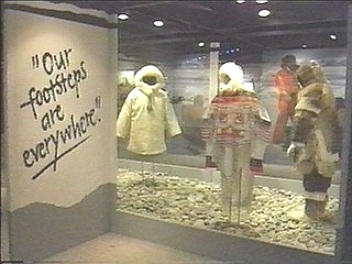 The designers of the North West Territory Pavilion found an ingenious, low-tech way to recreate an Arctic chill. An iceberg was towed from Canada's far north and placed inside the structure. This turned the pavilion into a giant icebox. The iceberg had a dual purpose, however. While eating at the N.W.T. restaurant, it was a novelty to have drinks blended with 50,000 year old ice (formed when Woolly Mammoths roamed Canada). Needless to say, the restaurant never ran out of ice.
Exterior and interior photographs along with more information on the Northwest Territories Pavilion can be found at Bing Thom Architects CULTURAL PROJECTS pages.