MAIN INDEX
PURPLE ZONE
RED ZONE
BLUE ZONE
PINK ZONE
GREEN ZONE
YELLOW ZONE

INTERNATIONAL, PROVINCIAL
& STATE PAVILIONS
CORPORATE PAVILIONS & THEME EXHIBITS
BCTV (British Columbia Television)
General Motors (Spirit Lodge)
BRITISH COLUMBIA TELEVISION PAVILION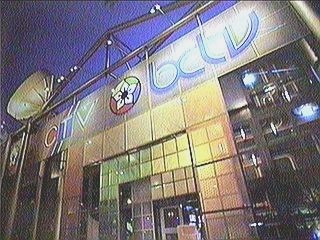 Inside the B.C.T.V. pavilion, a newsroom, studio and control room were in full operation. The local news, lottery draw, and celebrity interviews were broadcast from from the fair. Keeping with Expo's communication theme, visitors could view the process involved in bringing televised shows to the public.
The public was also invited to anchor the news. Visitors to the pavilion could read news stories of the day on camera and the best guest anchors were shown on that evening's broadcast.
Visitors were also invited to see their "face in space." Images of pavilion guests were sent to a satellite and back in a 64,000 Km trip that took three-tenths of a second.