MAIN INDEX
PURPLE ZONE
RED ZONE
BLUE ZONE
PINK ZONE
GREEN ZONE
YELLOW ZONE

INTERNATIONAL, PROVINCIAL
& STATE PAVILIONS
CORPORATE PAVILIONS & THEME EXHIBITS
BCTV (British Columbia Television)
General Motors (Spirit Lodge)
MALAYSIA PAVILION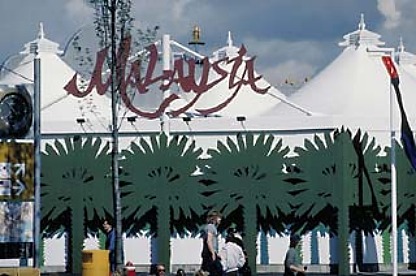 Malaysia boasted a harmonious integration of new and old ideas. Multi-cultural communication throughout the country's mix of Malay, Chinese, Indian, Kadzan and Dayak people were among the cultural exhibits.
Technological exhibits included, submersible cable, and "one of the finest rail systems" despite rugged mountains and dense tropical forests.

FROM THE BEST OF EXPO GUIDE:
"To know Malaysia is to love Malaysia" resounds as you enter this pavilion. You will come to love Malaysian food, served at the restaurant, and know tidbits about tourist spots, handicrafts and industrial developments. Small exhibits of made in Malaysia automobiles, machinery and other industries are designed to reverse stereotypes of this rapidly developing country.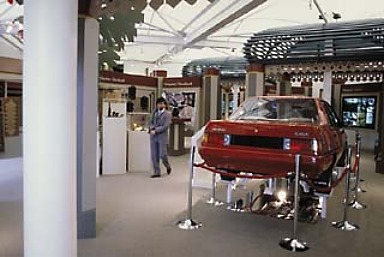 HIGHLIGHTS:
-- Spend time viewing the batik and pewter craft displays.
-- The slide show is quite worthwhile for understanding Malaysian culture and industry.