MAIN INDEX
PURPLE ZONE
RED ZONE
BLUE ZONE
PINK ZONE
GREEN ZONE
YELLOW ZONE

INTERNATIONAL, PROVINCIAL
& STATE PAVILIONS
CORPORATE PAVILIONS & THEME EXHIBITS
BCTV (British Columbia Television)
General Motors (Spirit Lodge)
KOREA PAVILION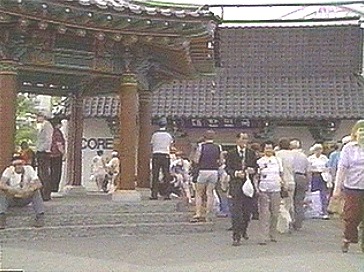 Adorned with a traditional entrance gate, the designers of this pavilion recreated the mood of a Korean meeting square.
Inside, a rich heritage was expressed. The Emile Bell, which is the largest bell in the Republic of Korea, was displayed as a symbol of communication.
The nation's transportation history was reflected by the Turtle ship. Built in the 16th century during the Yi Dynasty, the Korean pavilion billed it as the world's first iron-clad ship. It was decorated with the head of a turtle which contained a sulphur-fueled smoke generator to mask the Korean fleet's movement.
FROM THE BEST OF EXPO GUIDE:
A must see dance spectacular is the highlight of this pavilion. Lavishly dressed ladies greet you and start you on a journey of Korea's heritage in communication and current technological developments. This culminates with a model of the 1988 Olympic Village located in Seoul.
HIGHLIGHTS
-- Don't miss the spectacular live folk dance performance.
-- Note the external Korean architectural design of the pavilion, especially the entrance way.
-- Interact with the model of the beacon and kite signalling system in the first zone of the pavilion. Children can get to understand this ancient communication technique.