MAIN INDEX
PURPLE ZONE
RED ZONE
BLUE ZONE
PINK ZONE
GREEN ZONE
YELLOW ZONE

INTERNATIONAL, PROVINCIAL
& STATE PAVILIONS
CORPORATE PAVILIONS & THEME EXHIBITS
BCTV (British Columbia Television)
General Motors (Spirit Lodge)
CUBA PAVILION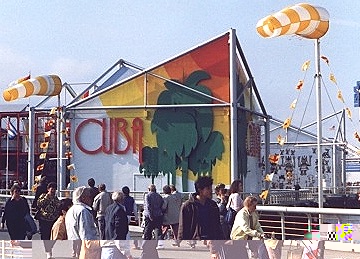 (Photo courtasy of A. J. Wilson)
The national identity and particular nature of Cuba was captured with a historic overview of transportation and communications developments as well as present day accomplishments. A multi screen slide show told of Cuba's role as a "stepping stone" between Europe and the Americas during the Spanish Conquests.
Modern transportation technologies included the plans for an underground rapid transit system in Havana.
One wall was lined with quaint Caribbean style shops, but the main attraction in this area of the pavilion was the Cigar store. It was there that young, beautiful Cuban women demonstrated the technique of hand-rolling tobacco leaves into cigars. This pavilion was a hit with middle-aged Americans who, because of U.S. government sanctions, had not been able to import Cuba's famous cigars for over a generation.