MAIN INDEX
PURPLE ZONE
RED ZONE
BLUE ZONE
PINK ZONE
GREEN ZONE
YELLOW ZONE

INTERNATIONAL, PROVINCIAL
& STATE PAVILIONS
CORPORATE PAVILIONS & THEME EXHIBITS
BCTV (British Columbia Television)
General Motors (Spirit Lodge)
WASHINGTON STATE PAVILION
Visitors were drawn to the Washington State Pavilion by colourful hanging banners.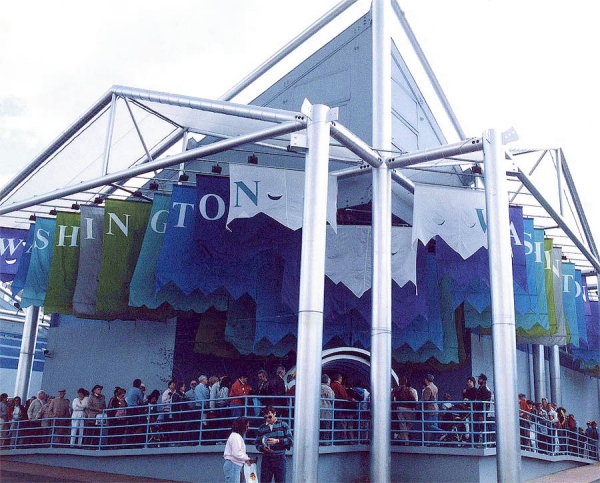 Inside, a unique presentation environment shuttled visitors along a moving sidewalk through one of the world's longest projection screens. Giant images were created by 72 choreographed motion picture and slide projectors. The feature depicted Washington's scenic wonders from both city and rural life.
The Garden Plaza featured entertainment amongst hemlocks and rhododendrons.
FROM THE BEST OF EXPO GUIDE
The State of Washington offers a travelogue presented in a unique fashion. You enter the pavilion through a shower of stars created by lights. You then find yourself in a tunnel, standing on a moving sidewalk called the Travolator. Here you'll see a seven minute film depicting Washington's scenery, people and local events. The main exhibit hall, Discovery Place, provides individual television monitors on which you can select a short feature on a variety of subjects pertaining to the state.
HIGHLIGHTS
-- the film viewed from the Travolator is well worth the visit. It has beautiful images and a great soundtrack.
-- children will get a kick out of riding on a moving sidewalk and seeing Mt. St. Helens explode in the movie.
-- volcanic glass, Mr. St. Helens soap and sweat treats are sold in the pavilion.