MAIN INDEX
PURPLE ZONE
RED ZONE
BLUE ZONE
PINK ZONE
GREEN ZONE
YELLOW ZONE

INTERNATIONAL, PROVINCIAL
& STATE PAVILIONS
CORPORATE PAVILIONS & THEME EXHIBITS
BCTV (British Columbia Television)
General Motors (Spirit Lodge)
OREGON PAVILION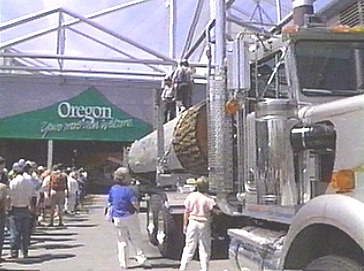 A logging truck complete with its full sized cargo stood outside the Oregon pavilion. Once inside, a glass tunnel shaped to look like a futuristic covered wagon incorporated visual illusions and special lighting to lead visitors on a time-travel journey into Oregon's past, present and future. Along the journey, visitors were treated to a walk through a cascading waterfall and three-dimensional scenes that recreated the many sides of Oregon.
After, a visitor kiosk and performers beckoned guests to pause on the Garden Plaza's cedar walkways to listen to music or view 150 plant varieties.
FROM THE BEST OF EXPO GUIDE:
A friendly feeling pervades the pavilion and remains with you through its imaginative (although confusing) "time tunnel," theatre and exhibit hall.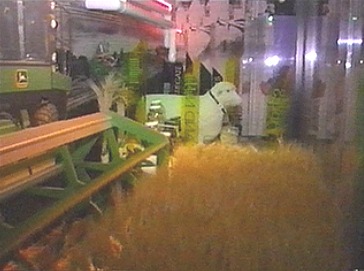 HIGHLIGHTS:
-- Look for the attractive art throughout the pavilion. An appealing slide show follows in the theatre.
-- the hosts and hostesses, many of whom are volunteers, are helpful and friendly.
-- Try the trivia quiz in the tourist area and don't miss the short movie done in an innovative animation process known as claymation.
-- try to sample some Oregon recipes in the tourist area. The food samples are free.