MAIN INDEX
PURPLE ZONE
RED ZONE
BLUE ZONE
PINK ZONE
GREEN ZONE
YELLOW ZONE

INTERNATIONAL, PROVINCIAL
& STATE PAVILIONS
CORPORATE PAVILIONS & THEME EXHIBITS
BCTV (British Columbia Television)
General Motors (Spirit Lodge)
GENERAL MOTORS PAVILION
(Spirit Lodge)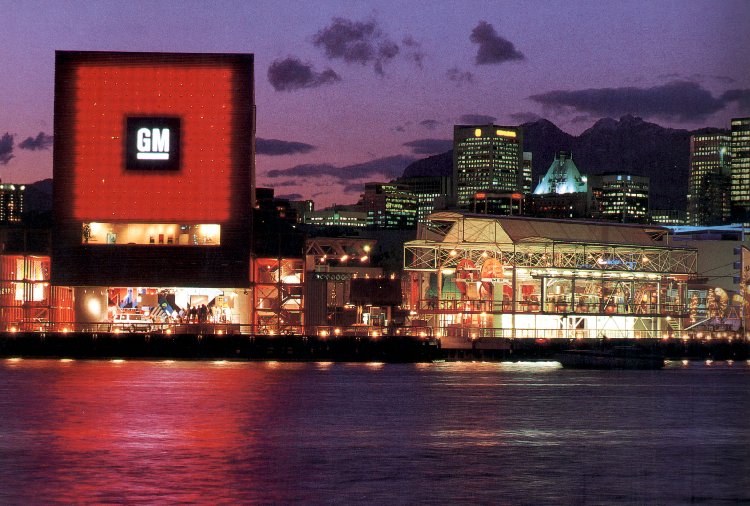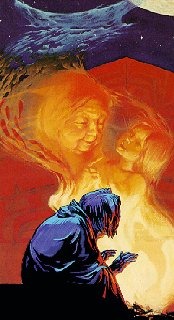 Throughout the 20th century, General Motors was known to sponsor some of the most innovative and popular World's Fair attractions. That tradition continued at Expo 86 as the GM pavilion quickly became one of the most talked about attractions.
The pavilion itself was a 30 metre high wedge shaped structure resting on a tubular truss frame. At night, the giant red wall overlooking the water was one of the most recognizable landmarks at Expo 86.
Ramps wound up the side of the building leading to the "Spirit Lodge" where visitors were suddenly taken out of the high-tech world of Expo 86 and into what appeared to be an ancient longhouse overlooking the local rain forest. The scent of fresh cedar permeated the room.
As the spectators settled into place, they saw in front of them a totem standing in the forest. A camp fire was smouldering in the foreground.
Not before long a man in traditional native dress entered. He stoked the fire and introduced himself as the storyteller. Plumes of smoke began to rise as he began to tell a mystical legend passed down through countless generations of storytellers. And as the people listened, it appeared that just like clouds in the sky, the smoke took on recognizable shapes. The story teller then invited his audience to imagine. The smoke images became clearer, eventually mimicking the story teller's words with haunting images.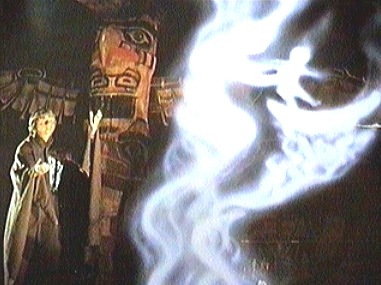 The legend told the story of a magic canoe which was able to transform its size to seat an entire village or shrink to comfortably fit a small child. It needed only a wish and one dip of the paddle and the canoe would instantly take its occupant anywhere he or she wished to go...
When the story teller was finished he sat on his stool, bowed his head in thanks and disappeared into thin air.
The presentation was only nine minutes long but people waited in excess of three hours to see it. Officially, the directors billed the production as a new, innovative special effects presentation but "holovision" was actually a twist on a technique that has been amazing audiences for well over three-hundred years. How did they do it? I'm not telling.
The popularity of this exhibit caught the eye of several entrepreneurs. Today, the Spirit Lodge has been recreated almost identically at Knott's Berry Farm & Theme Park in Los Angeles, California.
The ground floor of the GM Pavilion was filled with automobiles. Prototypes displayed such futuristic features as satellite navigation and alternative fuelled vehicles.