JAPAN PAVILION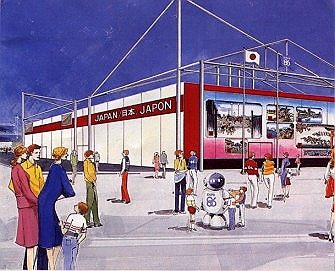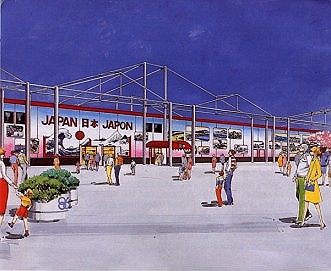 From the "Official Souvenir Guide:"
The main theme of the Japan Pavilion is the changing appearance of transportation. Guided by this theme, the pavilion shows how transportation has progressed as an aspect of our human development.
The history of transportation in Japan has been molded by its geographical features and the particular characteristics of its people. The pavilion is a visual expression of how transportation technology enhances culture and public welfare in Japan, and how such technology can contribute to the advancement of civilization and world culture in general.
Take a ride to tomorrow aboard the 450-metre diorama of a futuristic city. The HSST passenger train floats on electro-magnetic modules, providing a safe and efficient solution to the problem of moving a high volume of passengers quickly, economically, comfortably and cleanly.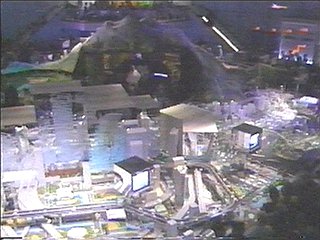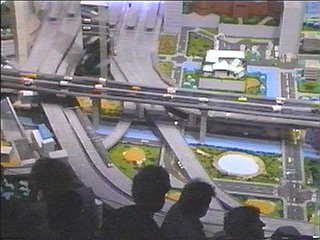 Three HSST test vehicles have been developed for eventual use as a transport system to link an airport to a city. Top speeds of over 300 kilometers per hour have been achieved. On the demonstration track, HSST will travel at 40 kilometers per hour and carry 40 passengers.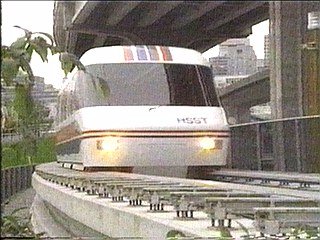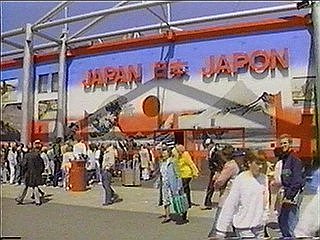 FROM THE BEST OF EXPO REVIEW GUIDE:
Japan offers a full learning experience. The most elaborate model at Expo showcases Japan's various transportation forms. You can ride on a magnetically-levitated high speed train. Various high-tech effects are used throughout to make this a truly informative yet entertaining pavilion.
HIGHLIGHTS:
-- Take time at the large room sized model of the islands of Japan in motion. There are over 20,000 moving parts -- model trains, planes, cars, ships, cranes, gondolas, subways etc.
-- Ride the magnetic flotation HSST train and imagine what it would feel like to travel at speeds of 300 km/hr
-- Try the interactive video library where you can chose to view up to 100 programs on various topics.
TIPS:
-- See the other two buildings, one showing various industries, the other an interesting history of the magnetic train.
-- If the HSST train has a long line-up, you may want to pass it up. Reaching speeds of only 40 km/hr is a bit of a let down.
-- There is a live entertainment area next to the gift shop.
View the Japan Pavilion pamphlet by clicking on the photographs above.