PAKISTAN PAVILION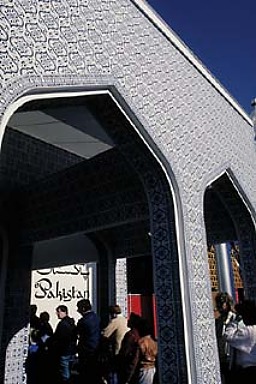 From the Official guide:
Like an ornate jewel box, the Pakistan Pavilion holds myriad treasures. The story of Pakistan's intriguing past and present begins with a portrayal of the ancient city of Moenjodaro, the largest remains of one of the oldest civilizations which flourished at the bank of the River Indus 5000 years ago. There are glimpses of the Indus Valley where Alexander the Great once marched.
To the strains of folk music, witness the diversity of colourful regional cultures and traditions interwoven with a thread of Islamic values and ideals. See the enchanting scenery of the northern area, where the world's most famous ranges meet -- the Himalayas, Karakoram and the Hinndu Kush.
A decorated bus which travelled from Khyber through the Plains of Punjab and Sind and on to Vancouver, introduces the visitor to 20th century Pakistan.
The pavilion portrays Pakistan's rich archaeological, historical and cultural heritage with tourism attractions on one hand, and on the other, the forward-looking vibrant economy of the country.
The interior of the Pakistan Pavilion is decorated with diversified patterns of textile fabrics, hand-woven carpets and traditional embroidery work. These and other colourful items are sold in the pavilion's boutique.
FROM THE BEST OF EXPO GUIDE:
The architectural style of Pakistan, the Islamic culture and the ornate art forms are juxtaposed in this small pavilion. The entrance is marked by a giant copper plate, with various chapters from the Koran. Beautifully woven silks and batik are displayed overhead. An ornately decorated bus, which is typical of busses in Pakistan, is the main thing to see in this pavilion.
HIGHLIGHTS:
-- Sit in this unique bus which as travelled from Pakistan and relax while watching a video on Pakistan. Get a feel for how the decoration of the bus reflects the aesthetics of this country
-- View the hand-loomed fabrics