KENYA PAVILION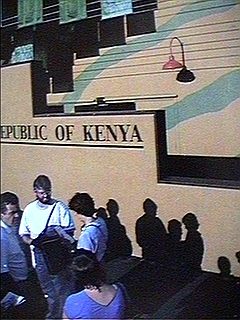 Inside the zebra-striped Kenya Pavilion, nature's own transportation and communications systems were viewed from the perspective of an aerial safari.
Featured inside were exhibits depicting the rugged terrain and fragile ecosystems that pose a major challenge to transportation. To protect its natural environment, Kenya exhibited a carefully planned system of controlled access routes to its game reserves.
Prominent in the Kenya Pavilion was a sculptural replica of Nairobi's famous Thorn tree -- an ingenious system for visitors to leave messages or to arrange a rendezvous with one another.
FROM THE BEST OF EXPO GUIDEBOOK:
Starting at the Thorn Trees entrance, you should be prepared for an informative tour. The differing regions of Kenya are described through pictures showing their tribal dress and geography.
HIGHLIGHTS:
-- Study the large carved door which is common in one region of Kenya.
-- Take a balloon ride over the African veldt.
-- The Thorn Tree at the entrance is a replica of a tree in downtown Nairobi where people leave messages for each other.