MAIN INDEX
PURPLE ZONE
RED ZONE
BLUE ZONE
PINK ZONE
GREEN ZONE
YELLOW ZONE
INTERNATIONAL, PROVINCIAL
& STATE PAVILIONS
CORPORATE PAVILIONS & THEME EXHIBITS
ROMANIA PAVILION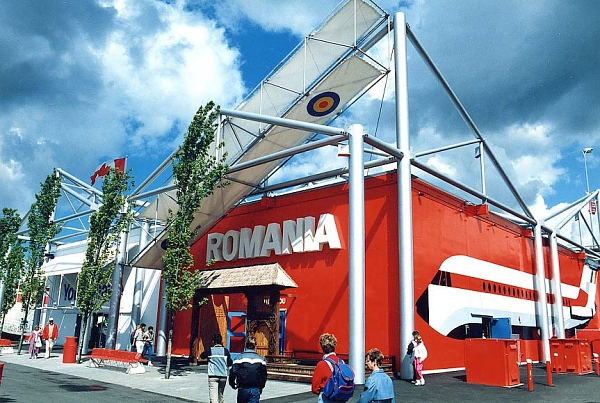 From the Official guide:
The Romania Pavilion reflects the nation's historic role in the trade routes of the Middle East to northern and central Europe. Even today, international ocean-going vessels follow Viking trails to access eight countries within the continent. From the Black Sea, ships follow the well-travelled Danube River which forms Romania's southern border.
Romania produces much of its own transportation equipment including railway carriages, locomotives, electric engines and transformers, farm machinery including tractors and trucks, as well as ships and boats, airplanes and helicopters.
A major landmark of Romania's modern era is the 1984 opening of the 64 kilometre long Danube-Black Sea Canal. This waterway shortens the route to central Europe by 400 kilometers and eases the ecological impact of the Danube Delta which is now being developed for agriculture, fishing and tourism.
Romania's natural resources are abundant and the southeastern European nation has developed an industrialized economy.
From the Best of Expo guide:
At the entrance to this pavilion you are greeted by a large picture of Romania's leader. Coupling transportation and production statistics, Romania seeks to tell you all about its industries.
Highlights
-- Note the colourful tiles along one wall and the old world look of the restaurant.