MAIN INDEX
PURPLE ZONE
RED ZONE
BLUE ZONE
PINK ZONE
GREEN ZONE
YELLOW ZONE
INTERNATIONAL, PROVINCIAL
& STATE PAVILIONS
CORPORATE PAVILIONS & THEME EXHIBITS
SENEGAL PAVILION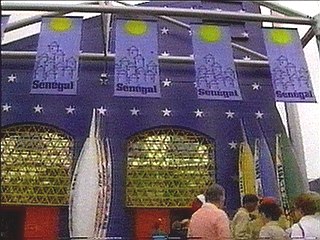 From the Official guide:
The Senegal Pavilion has as its theme the traditional sectors of fishing and agriculture, as well as this country's role as ambassador of African art.
The blue and white exterior symbolizes the importance of Senegal as a fishing coast of West Africa. At the entrance, bright ocean-going pirogues (canoes) are found. Inside, the visitor enters a village symbolic of traditional archicture. Within this scenic setting guests view not only transportation and communications, but also the great agri-industrial potential of the country.
The pavilion offers a picture of modern Senegal through displays of its railways, the Atlantic port of Dakar, on of the largest in Africa, the Transport Company of Cap-Vert and the National Telecommunications Company.
Traditional tapestries stand in contrast to original and modern graphic and visual works, reflecting a tradition rich in ethnic diversity.
From the Best of Expo guide:
The essence of this pavilion is the structure used to display the exhibits. Walls simulating the coloured mud huts of a village display the exhibits. You wind through the village to the accompaniment of music from Senegal.
Highlights
-- see the colourful canoes in front of the pavilion.
-- take time to absorb the feel of the village.