YUGOSLAVIA PAVILION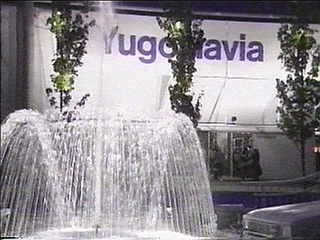 From the Official Guide:
Yugoslavia's eventful history is intrinsically tied to the development of new means of transportation. A long maritime tradition continues, with ship building one of the country's major industries. Yugoslavia's developing auto industry is represented in the pavilion by the Jugo 45 GV passenger car.
The favourable conditions for sailing, yachting and other water sports make Yugoslavia's more than 1000 islands on the adriatic Coast a mecca for tourists.
The Danube river, one of Europe's major waterways, runs through Yugoslavia and serves as an important transportation route.
Yugoslavia has 23 million inhabitants. The population is comprised of five nations. Four languages are spoken and two alphabets are used.
The pavilion's Olympic Sarajevo Restaurant offers fine dining in a relaxed atmosphere.
FROM THE BEST OF EXPO GUIDE:
The Yugoslavs provide a collage of ancient artefacts and photographs of technological innovations and tourist attractions. Visitors can circulate randomly throughout the exhibit hall and see a movie.
HIGHLIGHTS:
-- The photograph of scientist Nikola Tesla seated while 12 million volts of manmade lightning flash around him.
-- A medieval fresco depicting the crucifix scene with flying saucers in the sky.
-- A photographic display of an electronic system designed to enable paraplegics to stand up
-- The "Yugo" car priced at $3999.00 USD.