MAIN INDEX
PURPLE ZONE
RED ZONE
BLUE ZONE
PINK ZONE
GREEN ZONE
YELLOW ZONE
INTERNATIONAL, PROVINCIAL
& STATE PAVILIONS
CORPORATE PAVILIONS & THEME EXHIBITS
LAND PLAZA
The Land Plaza presented an amusing collection of land-based vehicles seemingly stalled on a roadway. Drivers, passengers and their baggage all appeared to be stuck in an international traffic jam of rickshaws, snowmobiles, 18 wheelers, busses, automobiles and even an elephant.
A jumble of international road signs competed with the confusion of traffic sounds -- honking horns, radio music and multilingual howls of protest. Although the verbal inflections were tamed for a family audience, nowhere before or after Expo 86 could anyone witness road rage on a universal scale.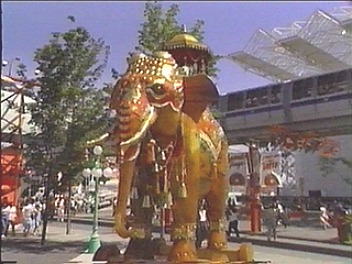 The roadway followed a spiralled curve into the centre where a 26 metre high sculpture was located. Called "Transcending the Traffic," sculptured vehicles at the bottom blended and became human forms riding animals as the sculpture rose higher. Finally at the top, a group of human forms reach to the sky.
Sometimes comical, always amusing, the Land Plaza's traffic jam was an innovative exhibit showcasing some of the world's most unique vehicles.