MAIN INDEX
PURPLE ZONE
RED ZONE
BLUE ZONE
PINK ZONE
GREEN ZONE
YELLOW ZONE
INTERNATIONAL, PROVINCIAL
& STATE PAVILIONS
CORPORATE PAVILIONS & THEME EXHIBITS
SASKATCHEWAN PAVILION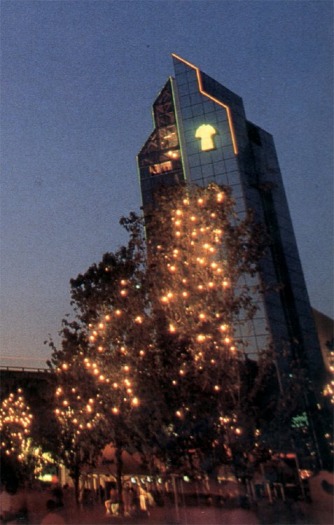 From the Official guide:
A 10 storey tower combining the elements of a prairie grain elevator with the workings of a potash mine, rises as a fitting symbol above the Saskatchewan Pavilion. Clad in mirrored copper an silver-coloured glass, the tower houses elevators that whisk visitors to an observation deck 32 metres above the site. Visitors see how a grain elevator works, before experiencing a panoramic view during the assent period. The ride down simulates a descent into a potash mine deep below the earth's surface.
Inside the pavilion are several Saskatchewan "firsts" such as the Mileage Maker vehicle, a wold-record holder in fuel efficiency. Continuous Saskatchewan entertainment is featured in the Showstage Harvest Restaurant daily from 11:15 AM to 12:30 AM. Thirty-two Saskatchewan young people perform a musical revue celebrating a story about the province, four times daily. The full-service restaurant features hearty family fare and homemade pies. Wine and beer is served. Every evening, the restaurant joins Expo After Hours with a lively cabaret atmosphere.
The story of the Saskatchewan people is told through a wide-screen film and live-performer presentation in Horizons theatre, while the Hall of Innovation provides a glimpse of the province's advancements in transportation and communications.
The golden art of wheat weaving, and wooden toy-making, are among the many demonstrations by talented Saskatchewan artisans. Handcrafted products are available in the Gift Shop.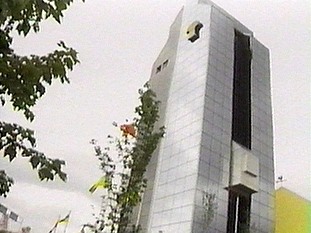 FROM THE BEST OF EXPO GUIDE:
The friendly, welcoming mood of this prairie province is recreated here and enhanced by displays which inform, involve and entertain you. There is never a dull moment at the Saskatchewan pavilion. While you may have to queue twice to experience the full offering -- once for the exhibit hall and again for the glass elevator ride -- Saskatchewan provides entertainment to ease your wait.
HIGHLIGHTS
-- The courtyard contains some large vehicles which are occasionally operated by pavilion staff. You can hear the sharp notes of the steam piano, Calliope, from quite a distance. A 1913 steam engine tractor sits alongside its present-day version, the 4494 Case tractor.
-- Linger awhile at the first two displays as you enter the pavilion. You'll see Blowtorch, the mechanical horse and the Phoenix VIII, a super fuel-efficient vehicle (would you believe it gets 2416 miles per imperial gallon?)
--You'll probably consider a visit to the actual province after seeing the combination filme/live entertainment presentation called "Horizons" which lasts about 15 minutes.
--The glass elevator ride--accessed through the outside doors marked "Tower" -- features an explanation of the workings of a grain elevator. The ride up the elevator gives a view to the west, north and east. The descending trip is a simulation trip down a potash mine, but lacks any really thrilling special effects.