MAIN INDEX
PURPLE ZONE
RED ZONE
BLUE ZONE
PINK ZONE
GREEN ZONE
YELLOW ZONE
INTERNATIONAL, PROVINCIAL
& STATE PAVILIONS
Organization of Eastern Caribbean States
PLAZAS AND ENTERTAINMENT
INDONESIA PAVILION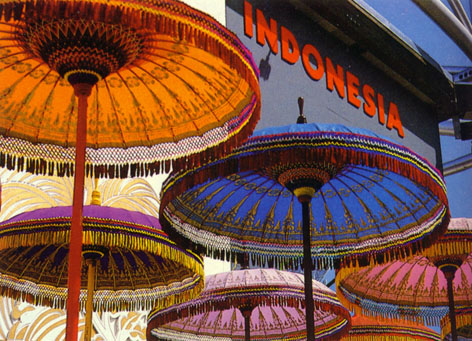 The theme of this pavilion was "A Nation of 13,000 Islands" which suggested the geographical problems associated with communication and transportation throughout Indonesia.
Of special interest was an exhibit on the difficulties in delivering the mail to the far reaches of the country. Cultural exhibits included a Royal carriage, an indigenous Asmat canoe, traditional tomtoms and a delicately carved Balinese gate.
The 150 seat theatre had delightful live performances.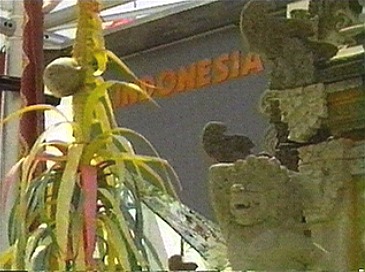 FROM THE BEST OF EXPO GUIDE:
HIGHLIGHTS:
-- Note the two canoes dominating the central area. One is a ceremonial canoe built every five years, to go on head hunting expeditions in the past. The second is a canoe used for boys' initiation rites.
-- Note the elaborate temple walls outside the pavilion.