MAIN INDEX
PURPLE ZONE
RED ZONE
BLUE ZONE
PINK ZONE
GREEN ZONE
YELLOW ZONE
INTERNATIONAL, PROVINCIAL
& STATE PAVILIONS
Organization of Eastern Caribbean States
PLAZAS AND ENTERTAINMENT
PHILIPPINES PAVILION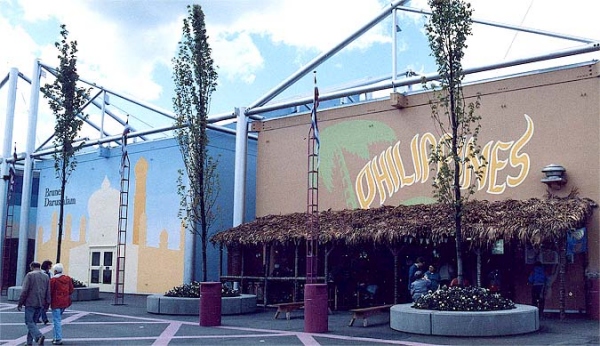 Guests entered the Philippine Pavilion through a palm-frawn draped veranda. Inside, lush tropical plants served as a backdrop for a dramatic display of three historic ships. The first was a flat bottomed cargo craft known as a casco. The second and third were ships for war and combat known as a caracoa and a virey, respectively.
Through an arch, the visitor found himself in an Asian style Bazaar complete with products and crafts from all over the Philippines. Everything but the pavilion itself was for sale. Within this setting, craftspeople demonstrated their trades and over-the-counter Philippine cuisine was there for the taking.
On a side note, political turmoil in the Philippines before and during Expo 86 made it short of a miracle that this pavilion managed to be built. Just two months before the fair, Philippines president Ferdinand Marcos fled the country after Corazon Aquino was elected into power. All signs of Marcos' rule were conspicuously absent in the pavilion.