MAIN INDEX
PURPLE ZONE
RED ZONE
BLUE ZONE
PINK ZONE
GREEN ZONE
YELLOW ZONE
INTERNATIONAL, PROVINCIAL
& STATE PAVILIONS
Organization of Eastern Caribbean States
PLAZAS AND ENTERTAINMENT
SWITZERLAND PAVILION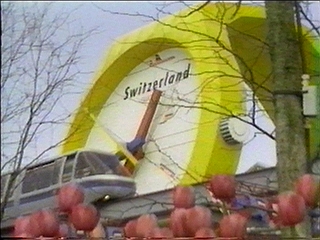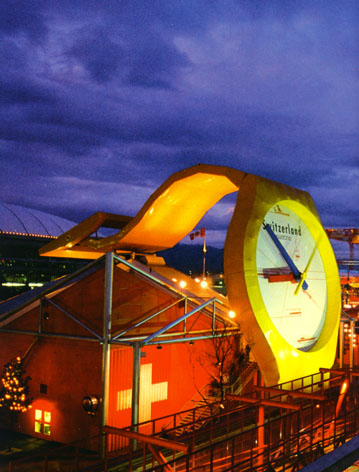 Visitors to the Switzerland Pavilion were greeted by a 25-metre-high watch. Once inside, exhibits
included a diorama of the longest tunnels in the world. Built in the 19th Century, Switzerland's Alpine railway opened a much needed route between northern and southern Europe.
FROM THE BEST OF EXPO GUIDE:
This country's world-wide achievements and innovations in transportation are laid-out in a series of exhibits and films -- from moving people up mountains to moving them across the country. In addition, there are some whimsical displays, and entertaining movie and a high-class restaurant.
HIGHLIGHTS:
-- Get a good look at the Swiss "Jollyball" game which faces you as you enter. Using an extensive series of mechanical chain reactions, a large silver pinball travels up gondolas, into banks, on trams and through tunnels, depicting many facets of life in Switzerland.
-- The pavilion uses space well by combining the exhibits, film and restaurant into one multi-level space ... one of the more unique uses of the typical "expo module."
-- The world's largest watch is here. It is probably one of the most talked about landmarks at Expo.