MAIN INDEX
PURPLE ZONE
RED ZONE
BLUE ZONE
PINK ZONE
GREEN ZONE
YELLOW ZONE
INTERNATIONAL, PROVINCIAL
& STATE PAVILIONS
Organization of Eastern Caribbean States
PLAZAS AND ENTERTAINMENT
SOUTH PACIFIC PAVILION
Papua New Guinea, Tonga, Western Samoa, Fiji, Vanuatu, Nauru, Solomon Islands and the Cook Islands banded together to create this picturesque pavilion. Fashioned for each culture's distinct architecture, this pavilion was in the shape of several individual homes/huts situated around a common meeting place.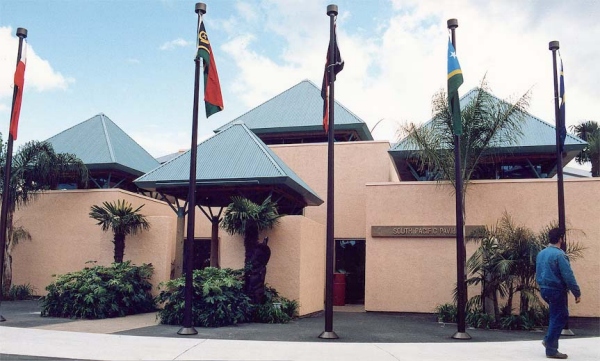 Exhibits concentrated on the unique means of communication that the Polynesian people used inside and outside their individual communities. The culture was very much alive at the fair. So not to disturb the atmosphere for the guests, personal messages between the pavilion's guides were relayed on a traditional Slit gong drum in a Polynesian morris code. These were the same drums heard throughout the South Pacific islands centuries ago to convey long-distance messages.
Keeping with the transportation theme, outriggers and ocean going canoes were beached on the common. Masks, ancestral figures and sprint figures were also presented, depicting the moods and environments of the individual islands.
FROM THE BEST OF EXPO GUIDE:
Aesthetically pure to their origins, the participating countries in this pavilion have presented their cultures in a pleasing informative style/ Various arts, crafts and artefacts invite you to feel the mystique of this exotic region. Entering the great house past the large god at the entrance, you can find the various countries leading from the large central room.
HIGHLIGHTS:
-- See the Paupa New Guinea display which has breathtaking presentation of their artefacts. Carved masks, figures and shields decorate this room.
-- note the traditional dress of the host and hostesses.