MAIN INDEX
PURPLE ZONE
RED ZONE
BLUE ZONE
PINK ZONE
GREEN ZONE
YELLOW ZONE

INTERNATIONAL, PROVINCIAL
& STATE PAVILIONS
CORPORATE PAVILIONS & THEME EXHIBITS

NORWAY PAVILION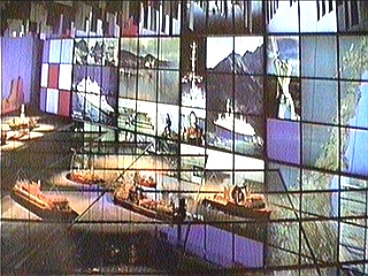 The Norway Pavilion hightlighted transportation technology at work on the seas and beneath the ocean. Also included were unique ways Norway has learned to keep shipping on the go even during the coldest winters.
FROM THE BEST OF EXPO GUIDE:
The displays are of a highly technical nature and my overwhelm you at first but the message here is actually quite easy to appreciate. Norway's aim is to conquer the sea -- or the earth's "inner space". Through the clever use of a false ceiling, you are made to feel like you are underwater, exploring the massive structures designed for oil drilling or deep-water pipelines. An amphitheatre provides comfortable seating for a 15-minute audio-visual program entitled "A Ticket to Norway."