MAIN INDEX
PURPLE ZONE
RED ZONE
BLUE ZONE
PINK ZONE
GREEN ZONE
YELLOW ZONE
INTERNATIONAL, PROVINCIAL
& STATE PAVILIONS
Organization of Eastern Caribbean States
PLAZAS AND ENTERTAINMENT
MEXICO PAVILION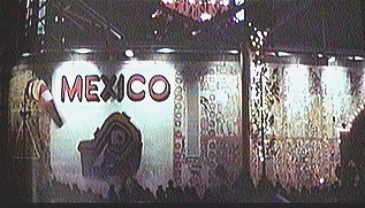 The Mexico Pavilion featured the role of communication and transportation in shaping the country's modern history.
The splendours of pre-Columbian civilizations and the mysteries of their technologies formed another part of Mexico's pavilion. Exhibits also explained of ancient wisdom and why the methods applied by the Ancient Omec people to transport massive stone sculptures more than 100 km inland still baffle archaeologists today.
FROM THE BEST OF EXPO GUIDE:
HIGHLIGHTS
-- the wire framed replica of the Temple of Quetzcoatl is a unique representation.
-- watch an artist create a graffiti mural.