MAIN INDEX
PURPLE ZONE
RED ZONE
BLUE ZONE
PINK ZONE
GREEN ZONE
YELLOW ZONE
INTERNATIONAL, PROVINCIAL
& STATE PAVILIONS
Organization of Eastern Caribbean States
PLAZAS AND ENTERTAINMENT
THAILAND PAVILION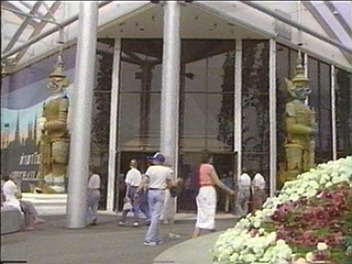 With the theme "Land of Smiles," friendly attendants ushered guests through a series of cultural displays that reflected a rich history and a promising future. Modern technology was exhibited alongside magnificent temple ruins throughout the pavilion.
Thailand's famous silk and cotton fabrics were available at the gift shop.
FROM THE BEST OF EXPO GUIDE:
Two giant warrior gods guard the entrance to the pavilion. the pagoda roofing and the traditional dress of the hostesses provide an aura of the Far East.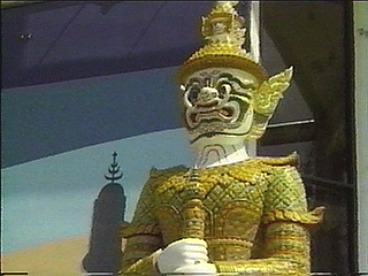 HIGHLIGHTS:
-- Study the various models and intricate artifacts carefully in order to enjoy the detailed work that has gone into them.