MAIN INDEX
PURPLE ZONE
RED ZONE
BLUE ZONE
PINK ZONE
GREEN ZONE
YELLOW ZONE
INTERNATIONAL, PROVINCIAL
& STATE PAVILIONS
Organization of Eastern Caribbean States
PLAZAS AND ENTERTAINMENT
SINGAPORE PAVILION
Visitors to the Singapore Pavilion's exhibits were immediately transported to the delights of the unique island city. Age-old cultures blended harmoniously with advanced technology, making the traditional almost inseprable from the modern. Singapore's transformation from a quiet fishing village to an adventurous seaport were displayed.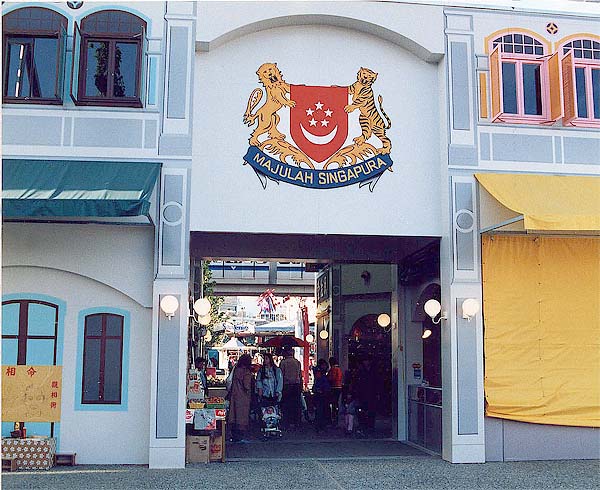 FROM THE BEST OF EXPO GUIDE:
An outdoor Singapore street scene portraying the country's multi'cultural mosaic forms the heart of this pavilion. You can pretend to shop for and Indian saree, Chinese provisions, and Indian spices. An indoor theatre surrounds you with screens and transports you to Singapore via a fast moving slide show depicting the country's culture, lifestyle and technology.
HIGHLIGHTS:
-- Look around the various shops and try to remember that all these different cultures coexist in Singapore.