MAIN INDEX
PURPLE ZONE
RED ZONE
BLUE ZONE
PINK ZONE
GREEN ZONE
YELLOW ZONE
INTERNATIONAL, PROVINCIAL
& STATE PAVILIONS
Organization of Eastern Caribbean States
PLAZAS AND ENTERTAINMENT
PERU PAVILION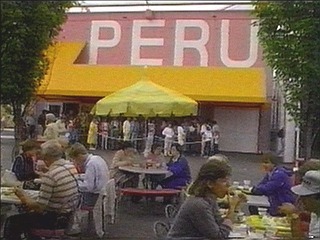 In this Pavilion, the country's long cultural history was represented by the most extensive collection of gold treasures ever to be shown outside Peru. More than 300 items from the Museo de Oro del Peru included weapons, a 1000 year old Mummy, musical instruments, religious objects and surgical implements. Among them was the gold-inlaid iron sword wielded by Pizarro, conqueror of the Incas.
Keeping with Expo's theme, visitors to this pavilion learned that the Incas were second only to the Anciant Romans in road construction. 3600 km of roads linked the Inca Empire as far as central Chile, Argentina, Columbia and Ecuador.
Exhibits on modern Peru included the highest railroad system in the world as model trains were shown climbing the mountains to Lake Titicaca.
For the potential tourist, the luxury ships that cruise the Amazon river system were also displayed.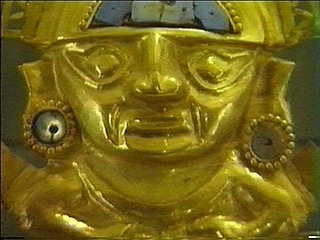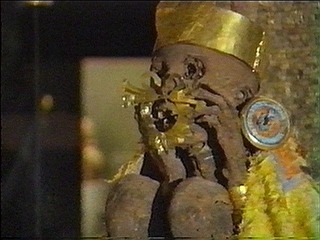 FROM THE BEST OF EXPO GUIDE:
Peru provides a showcase of its ancient golden treasures that rivals, on a smaller scale, the popular Ramses II exhibit. The mini-museum called "The Gold of Peru" is chock-full of golden artifacts, truly the htighlight of this small pavilion.
HIGHLIGHTS:
-- A pair of crossed gold arms used during funeral processions greets you as you enter "The Gold of Peru" exhibit.
-- A mummy of the 12th-century Nasca Indian Chief finds himself staring back at 20th century visitors to Expo.
-- erotic art is unbashedly revealed in the last display unit.