MAIN INDEX
PURPLE ZONE
RED ZONE
BLUE ZONE
PINK ZONE
GREEN ZONE
YELLOW ZONE

INTERNATIONAL, PROVINCIAL
& STATE PAVILIONS
CORPORATE PAVILIONS & THEME EXHIBITS

AIR CANADA PAVILION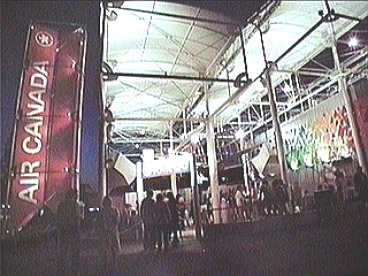 Air Canada's Pavilion featured a state-of-the-art Kaleidoscope, the largest rear projection screen in the world with computer integrated images from 200 slide projectors. The show featured the history of aviation in Canada from the first flight to the modern day jet age.
Also featured was the history of Air Canada from its humble beginnings as Trans Canada to its latest jets.
To celebrate Expo 86 as well as its 50th anniversary in 1987, Air Canada planned a special coast-to-coast flight with the Lockheed 10A, the original plane that made the first commercial flight in Canada. Also known as the "Electra" or the "Silver Giant," the Lockheed 10A landed in Vancouver during Expo 86.
FROM THE BEST OF EXPO GUIDE
Air Canada has chosen to take us on a nostalgic flight through its history as opposed to wowing us with new technology. The first airplane in the British Commonwealth is on exhibit in the plaza. The main presentation commences with the first flight of Air Canada, from Vancouver to Seattle in 1937, and provides a history of the airline company.
Surprisingly, it's the historic shots of people like Elvis Presley and Pierre Trudeau flying on older airplanes, along with an excellent original soundtrack, that makes this pavilion memorable.