MAIN INDEX
PURPLE ZONE
RED ZONE
BLUE ZONE
PINK ZONE
GREEN ZONE
YELLOW ZONE

INTERNATIONAL, PROVINCIAL
& STATE PAVILIONS
CORPORATE PAVILIONS & THEME EXHIBITS

BARBADOS PAVILION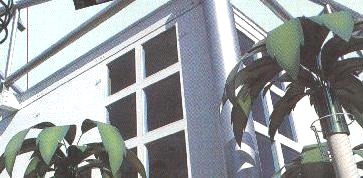 Sculptured palm trees and a bright, tropical mural beckoned visitors to the Barbados Pavilion.
Inside, the tropical theme was carried through the pavilion with displays pertaining to the Caribbean way of life and the 17th Century shipping trade. For philatelists, Barbados postage stamps, famous for their beauty and colour, were on display and also for sale. Also for sale was jewlery made from fish scales.
HIGHLIGHTS
-- Listen to a "Bajan" speak over an antique phone. Although English is the language of Barbados, a visitor still had to ask what language the telephone speaker spoke.
-- See the slide presentations which will give you a very good idea of the island's topography and perhaps suggest the destination for your next vacation.