MAIN INDEX
PURPLE ZONE
RED ZONE
BLUE ZONE
PINK ZONE
GREEN ZONE
YELLOW ZONE

INTERNATIONAL, PROVINCIAL
& STATE PAVILIONS
CORPORATE PAVILIONS & THEME EXHIBITS

THE ROUNDHOUSE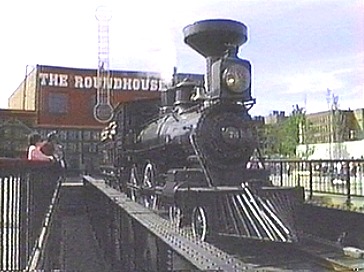 There was very little worth saving in the industrial district that previously occupied the Expo 86 site. The Roundhouse was an exception. Originally used to fix locomotives, the Roundhouse was deemed a heritage building and restored for Expo 86. An international competition to furnish the building as a theme pavilion was announced, and after studying several interesting proposals, the Art Centrum design team from Czechoslovakia won.
Outside, Locomotive #374 which hauled the first transcontinental passenger train into Vancouver in 1887 stood in a place of honour in the courtyard.
Inside was a trip back in time to when the combustion engine was new and electricity was first being harnessed. It was a trip to the time when back yard inventors tinkered on all sorts of contraptions in hopes that their invention would be the pot of gold at the end of the rainbow. Several fun exhibits helped generate the mood of enthusiasm that swept the world during the early part of the 20th century.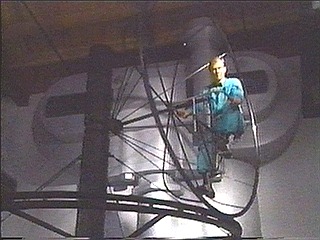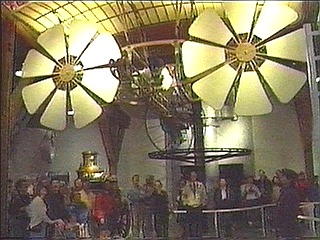 The "Golden age of Ingenuity" focused on the industrious transportation pioneers that took humanity from steam power to flight in just over a century. Taken from actual patents, working prototypes of all kinds of bizarre machines were on display. Overhead, the pavilion's attendants rode in actual contraptions that never made it to the assembly line. Through telescopes, visitors could view short, animated films about real and imaginary modes of transportation.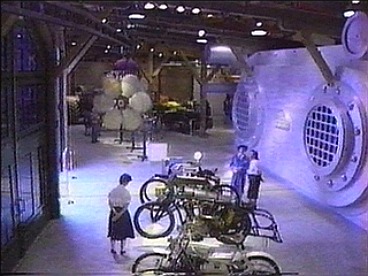 The "Retrospective Corridor" was lined with golden statues of anonymous inventors holding their implausible inventions. Was it any wonder why an inflated inner tube wrapped around the inventor's waist and wired to his nose never made it big as an underwater breathing apparatus?
Archival footage gathered from around the world celebrated humorous moments in the failures -- and successes -- of the turn-of-the-century technical pioneers. As humorous as it all was, visitors were reminded at the tour's end that regardless of the successes and failures they owed much to people with vision.