HONG KONG PAVILION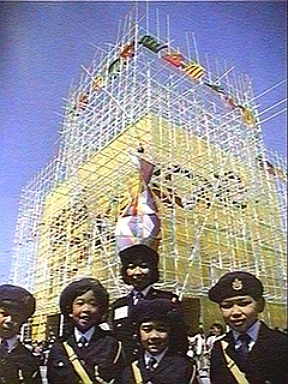 Enclosed in traditional bamboo scaffolding, the Hong Kong Pavilion was one of the two pavilions designed by Bing Thom Architects (more pictures on their website).
Craftsman continuously changed the pavilion's facade throughout the fair. This dramatic act was an artistic gesture to symbolize the restless spirit of change and regeneration which has guided the development of Hong Kong from its earliest beginnings.
The pavilion took as its theme the contrast between "Silk and Silicon" to show the transition from Hong Kong's historic role as a coastal trader to its status as the industrial, financial and communications mecca of Asia.
Inside the pavilion, a 24 hour day in the life of Hong Kong was compressed into a lively nine-minute multi-media performance.
FROM THE BEST OF EXPO GUIDE
For a quick taste of an exciting metropolis, step into the Hong Kong pavilion. Here you'll find a multi-media presentation accompanied by a dance troupe that exposes you to the bustle and beauty of Hong Kong.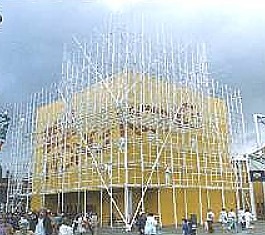 HIGHLIGHTS
-- The pavilion's exterior has gone beyond the simple boundaries of the Expo module. It will be in constant change demonstrating bamboo scaffolding construction techniques.
-- The show is fast-paced and leaves you excited about the country. The dancers add a unique touch to an already dazzling show.
-- The uniforms worn by the pavilion's hosts are made of silk, yet look like leather.
-- Ask for a postcard, hand-drawn by a student in Hong Kong, and become a pen pal.