MAIN INDEX
PURPLE ZONE
RED ZONE
BLUE ZONE
PINK ZONE
GREEN ZONE
YELLOW ZONE

INTERNATIONAL, PROVINCIAL
& STATE PAVILIONS
CORPORATE PAVILIONS & THEME EXHIBITS

QUEBEC PAVILION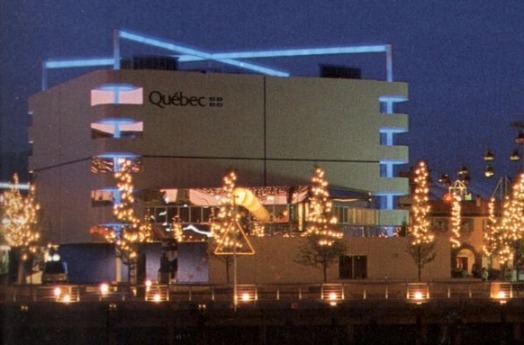 Quebec's gleaming white pavilion was lit by glowing neon at night. Many of the displays were placed in outdoor courtyards.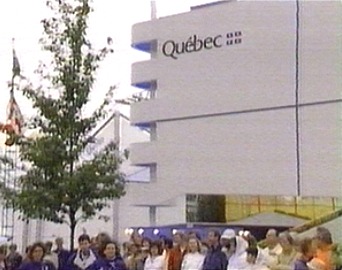 In a clever audio-visual presentation, Isabelle from Quebec and her friend Steve from British Columbia took a fantasy flight over Quebec aboard a magic ring. Visitors to the pavilion were invited to join them. The audience, standing on a circular platform completely surrounded by backlit water, were able to view a 360 degree panorama film projected from overhead which made it appear that the audience was flying as well.
The presentation culminated in a celebration of water with a dancing fountain and laser show.