MAIN INDEX
PURPLE ZONE
RED ZONE
BLUE ZONE
PINK ZONE
GREEN ZONE
YELLOW ZONE

INTERNATIONAL, PROVINCIAL
& STATE PAVILIONS
CORPORATE PAVILIONS & THEME EXHIBITS

UNITED NATIONS PAVILION
"Peace Through Communication" was the theme of the United Nations Pavilion. It combined the special focus on 1986 as the International Year of Peace with the communications theme of Expo 86.
Upon entering the pavilion, guests saw planet Earth as seen from space. Without flags or boundaries, the model of the earth served as a reminder of our common humanity and suggested that people and nations can become truly united in a quest for peace.
An audio-visual production, Island in Space, narrated by Peter Ustinov, was shown in a 120 seat theatre.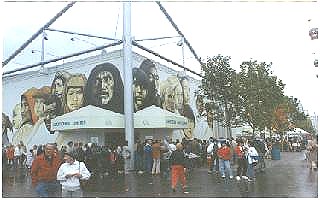 FROM THE BEST OF EXPO GUIDE
World harmony, the theme of the U. N. is reflected on a beautiful wall mural on the outside of the building. Peace and nuclear disarmament is the specific message of the exhibits.
HIGHLIGHTS
-- be a television star and share your message of peace.
-- MUST SEE the interactive video programs featuring pieces by people like Carl Sagan.
-- Watch the entertaining "It Can't be Done" program.
-- The UNICEF Boutique features beautiful books, cards, and crafts. Proceeds from the gift shop help the children.
CLICK HERE to view photographs of the UN pavilion's wall mural designed by Paul Ygartua.