FRANCE PAVILION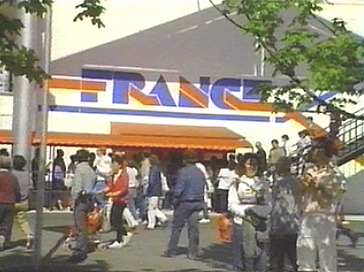 Visitors could enter or leave the France Pavilion on the "People Mover." Situated on an elevated track, the light weight tranportation system was billed as a prototype that could eventually be fitted for use in airports and urban centres.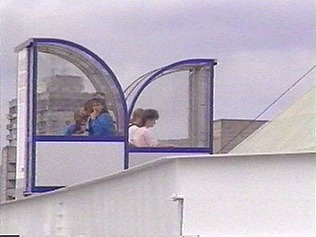 Inside, realistic and fanciful visions of future transportation modes were exhibited with life-size models. These included interesting plans to revitalize Paris' Metro and the visions of Science-fiction author Jules Verne.
An exhibit displaying the French observation satellite SPOT and its photographs gave visitors a glimse of what Vancouver looks like from space.
FROM THE BEST OF EXPO GUIDE
The French take the theme of transportation and cover it from A to Z , and they do it well. The pavilion is devided into nine seperate sections, each one containing several exhibits. In addition, there are two film presentations on the second level.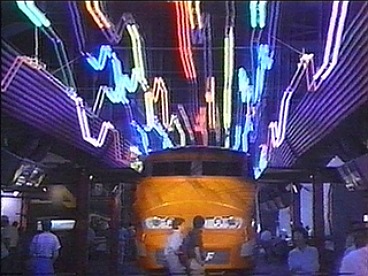 HIGHLIGHTS
-- There re several models, All of which are worth seeing, but the most impressive is the one of the "Green Belt," park land area surrounding the train line for severl miles outside Pris. Also on display is a model of the Gare de Lyon and a mock-up of the TGV (Fast Train).
-- Travel around the world and see French technology everywhere. An excellent display lets you choose the area and type of technology you want to learn about.
-- Check out the French method of monotoring highway safety.
**note** Urban highway exhibits included a model explaining the system of overpasses and underpasses recently upgraded in Paris to increase safety and ease traffic congestion. During the Royal pavilion tour, Princess Diana would have viewed the site of the car accident that would take her life 11 years later.