MAIN INDEX
PURPLE ZONE
RED ZONE
BLUE ZONE
PINK ZONE
GREEN ZONE
YELLOW ZONE

INTERNATIONAL, PROVINCIAL
& STATE PAVILIONS
CORPORATE PAVILIONS & THEME EXHIBITS

PRINCE EDWARD ISLAND PAVILION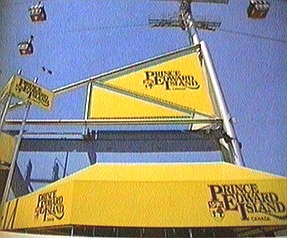 This quaint pavilion's theme was "The Quiet Province."
Inside, a slide show presented the island province's scenic beauty to the soundtrack of seagulls. Special attention was given to Lucy Maude Montgomery who made the island internationally famous with her book "Anne of Green Gables."
In 1986, a heated debate was underway on whether or not to build a bridge from mainland Canada to PEI. Althought the idea was not new, the technology for such a massive undertaking wasn't available until the 1980s. The dream was realized eleven years later when the Confederation Bridge was opened to the public.