MAIN INDEX
PURPLE ZONE
RED ZONE
BLUE ZONE
PINK ZONE
GREEN ZONE
YELLOW ZONE

INTERNATIONAL, PROVINCIAL
& STATE PAVILIONS
CORPORATE PAVILIONS & THEME EXHIBITS

ITALY PAVILION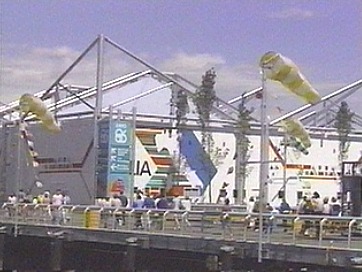 All roads lead to Rome. The Italy Pavilion may have been steeped in history but the Italians wanted to make it clear that their achievements didn't end with Leonardo da Vinci. At the core of this pavilion's theme was innovation and how Italy's long history of inventiveness was still being written.
FROM THE BEST OF EXPO GUIDE
If you are fond of stylish, expensive automobiles, this is the place to find them. Italy offers a glittery showroom display of vehicles which have conquered travel by sea, land and air. Yet amid all the modern glamour rest the ancient precursors to these travel machines -- as silent milestones of a nation on the move.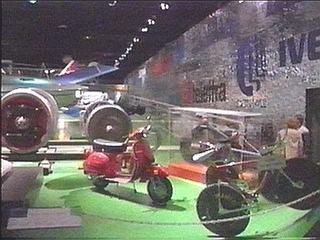 HIGHLIGHTS
-- As you move up the display area, take note of the contrasting elements on either side of your walk: an Etruscan cart opposite the Ferrari Mondial Cabriolet. Leonardo da Vinci's Vite Area/Air Screw beside the helicopters, etc...
-- The rear wall represents an artistic testimony to athletes, horses and riders -- muscle power as the purest mode of transportation.