MAIN INDEX
PURPLE ZONE
RED ZONE
BLUE ZONE
PINK ZONE
GREEN ZONE
YELLOW ZONE

INTERNATIONAL, PROVINCIAL
& STATE PAVILIONS
CORPORATE PAVILIONS & THEME EXHIBITS

CANADIAN PACIFIC PAVILION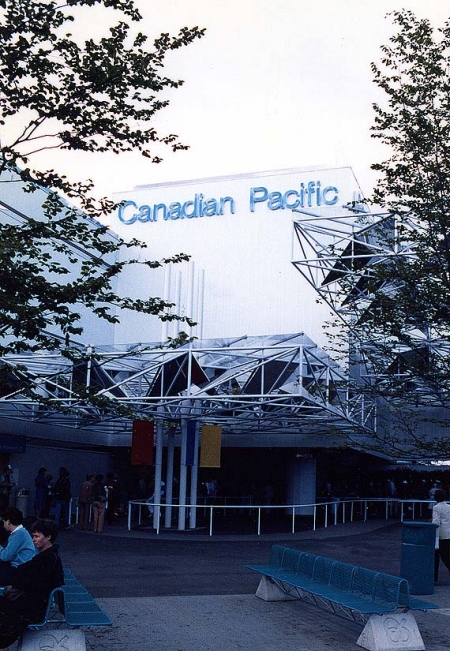 Undoubtedly one of the most memorable attractions at Expo 86, the Canadian Pacific Pavilion awed audiences with two presentations -- The Time Wall and "Rainbow War."
The first presentation was set up in a style that could be described as a cross between a doll house and the Brady Bunch. Several mannequins were placed in individual partitions stacked beside and on top of each other. Each mannequin, representing a different sect of society or period in history, had a television monitor in place of a head. The monitor would turn on, showing a face when it was time for a character to speak. The show's premise suggested that father time, represented by a face on an abstract clock, brought an assortment of people together through time and space to talk about their likes and dislikes. Consequently, the problems all the characters had in common were based on transportation.
The show itself was an ingenious example of how an individual's point of view is shaped by personal life experiences. The complaints of a man stranded at an airport and the cab driver caught in traffic began to appear petty when an irish seaman told of how he watched his loved ones suffer on a long boat journey when he immigrated to Canada in 1886. The old woman's recollections of the "good old days" didn't sit too well with the native American and the trucker's idea of fun wasn't exactly appreciated by the other characters. Throughout it all, the bickering eventually eased to understanding as the characters found common bonds.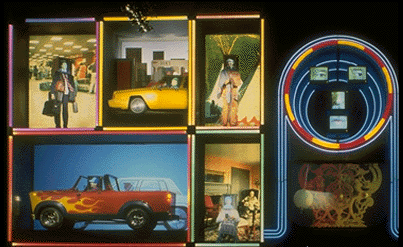 This entertaining and poignant production was originally developed as a pre-show for the film next door but it's clever script and unique staging made it one of the best shows at Expo 86. It was hard to believe that there was something better in the theatre next door.
The theatre was the main attraction at the Canadian Pacific Pavilion. Their film "Rainbow War" was nominated for an Academy Award and they proudly made sure that everyone knew it.
If people didn't get the point from the first presentation, the film "Rainbow War" spelled it out in a language anyone could understand. It took the universal themes of prejudice, ignorance and mistrust and wrapped them up in a modern fairy tale: "Once upon a time in a timeless place there were three kingdoms, one blue, one red and one yellow..."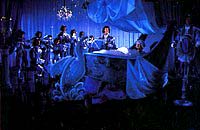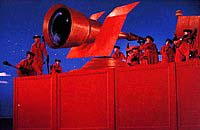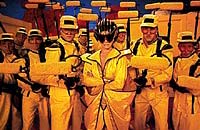 ...and for those that would like to relive this timeless tale, a clip is available at Pyramid Media