BRITAIN PAVILION
Britain devided its displays on transportation into five categories: Local, National, International, the Future and Leisure. They achieved this mostly through the use of demonstration vehicles. The exhibits were well laid out along a meandering pathway that eventually led to a pub.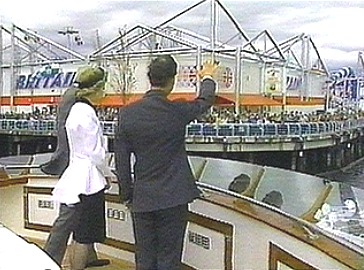 The Local section featured the latest in personal transportation. The latest carbon fiber bicycle designs sat alongside a car developed specifically for wheelchairs. The100,000th Rolls royce to roll off the assembly line was displayed here.
The National section focused on Britain's efficient railway system. The pride of the fleet known as the HST had been clocked at speeds exceeding 200 kilometers an hour without the need for specially constructed tracks. Hovercrafts, short hop aircraft and airships were also featured.
Jet propultion workhourses such as the Skyvan and the supersonic Concorde were featured in the International section.
The Fun and Leisure section showcased sailboats, trailers (caravans), go-carts and hang gliders.
From submersables able to map the sea floor to horizontal take off and landing jets, the Frontier Movers section concentrated on technologies of the present and the future. Britain prided itself on being the first country to successfully launch a magnetic levitation train into regular service. Also on display was the world's fastest car, Thrust II, the world speed record holder in 1986.
The pub located in the Britain Pavilion was based on Kings Lynn which was the home of George Vancouver (British Captain to map the Pacific Northwest). Not only did this pub serve traditional british food, it also had one of the largest selections of beer ever provided in one establishment.